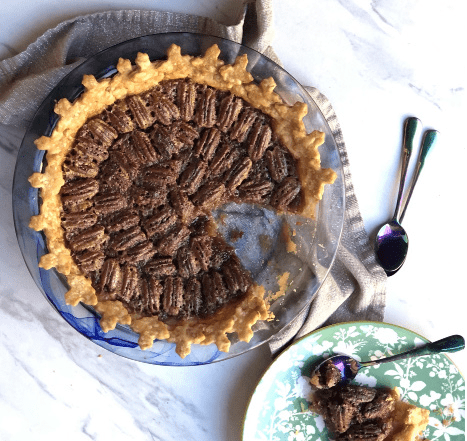 Making pie from scratch never fails to make me feel like a gourmet chef. Small chunks of margarine in the dough creates a tender and flaky crust. The addition of sweet, caramel-scented bourbon evaporates during baking, yet leaves behind rich depths of flavor. Serve a slice of this bourbon pecan pie with vanilla ice cream and enjoy!
1¼ cups flour
¼ tsp salt
1 cup plus 1 tsp sugar
1 stick margarine, cubed small and frozen
¼ cup ice water
1 cup dark corn syrup
3 eggs
2 tablespoons margarine, melted
1 tablespoon Pure Vanilla Extract
½ teaspoon salt
1½ cups whole pecans
¼ cup bourbon
In the bowl of a food processor, combine flour, salt, and 1 tsp sugar. Add one stick frozen margarine cubes, and process until mixture resembles coarse meal, 8 to 10 seconds.

With the machine running, add ice water in a slow, steady stream. Pulse until dough holds together without being wet or sticky; be careful not to process more than 30 seconds. To test, squeeze a small amount together: If it is crumbly, add more ice water, 1 tablespoon at a time.

Roll the dough into one ball. Flatten into a disc and wrap in plastic. Transfer to the freezer and chill for 15/20 minutes.

Roll out the ball between two pieces of wax paper and place into a pie dish. Flute the pie edge using your fingers or press a fork along the edge to create another design.

In a mixing bowl, mix corn syrup, eggs, one cup sugar, two tablespoons melted margarine, vanilla, salt, and bourbon. Pour filling into pie crust.

Place pecans on top of filling, evenly placing to create a nice pattern.

Bake on 350 degrees Fahrenheit for 50- 60 minutes. Allow to cool and set at least one hour before serving.

Optional – serve with vanilla ice cream.