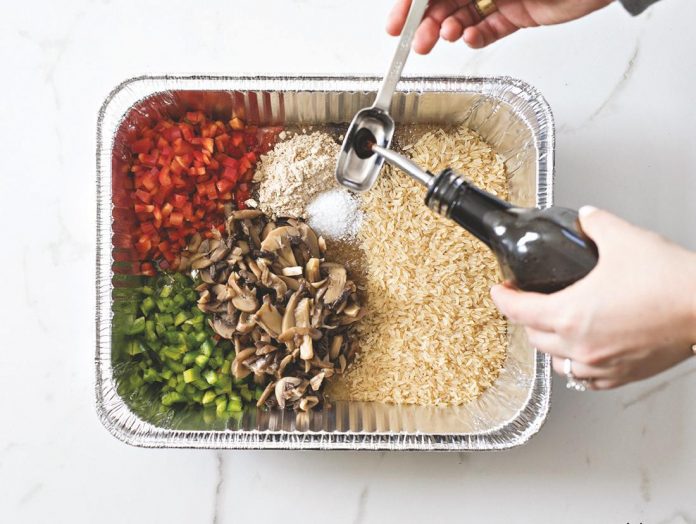 Last month, we gave you two desserts that can be prepped entirely in a 9×13 pan. This month, it's time for the real food. After all, it's a busy time of year and you can use some dishes that make things a little easier. These in particular are a little more special and would also work for your seudah.
9×13 Fancy Rice
This rice is on oldie but goodie that always satisfies. Make it in minutes in one pan!
2 cups rice (I use Uncle Ben's)
1 red pepper, finely diced
1 green pepper, finely diced
1 (10 ounce) can sliced mushrooms, drained
2 tablespoons onion soup mix
2 tablespoons soy sauce
¼ cup oil
3 ¾ cups water
Salt and pepper to taste
Preheat oven to 350⁰F.
Combine all ingredients in a 9×13 pan. Mix well. Cover and bake for 1 hour.
Veggies will rise to the top when cooking, so mix well before serving.
This side dish can be prepared in advance and refrigerated.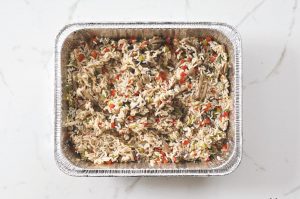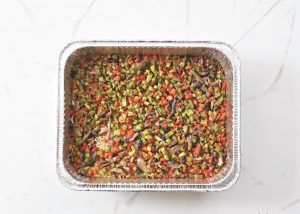 9×13 Minute Steaks and Yukon Golds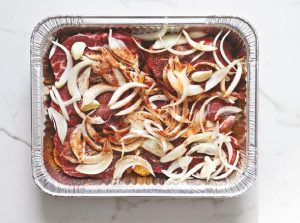 In this dish, there's minute steaks hiding under onions and garlic, and soft buttery Yukon Gold potatoes hiding under the steak.
It works great as a supper that you put up in the morning, leave the house, and come home to…or even as an easy Yom Tov dish because, well, it's steak! It'll work with many cuts of meat.
Bottom Layer:
4-5 Yukon Gold potatoes, peeled and sliced
4 garlic cloves, sliced
½ onion, chopped
1 ½ tablespoons olive oil
¼ teaspoon black pepper
1 teaspoon paprika (sweet or smoked, whatever is available)
1 teaspoon garlic powder
2 teaspoons salt
Middle Layer:
6 minute steaks
Top Layer:
1 onion, sliced
4 garlic cloves, whole
1 teaspoon salt
½ teaspoon garlic powder
½ teaspoon paprika
Dash black pepper
Preheat oven to 275⁰F
Combine all bottom layer ingredients and spread in a 9×13 inch pan.
Top with minute steaks.
Combine all top layer ingredients and spread on top of steaks.
Cover pan well and bake for 6 hours.
Yield: 6 servings
Between Carpools is the lifestyle app/site for the busy Jewish woman.  You'll find home and organizing tips, parenting insights, activities, how-to's and DIYs, and of course, entertaining ideas, recipes, and inspiring reads. The APP is available at the App Store and Google Play. If you have a kosher smartphone, you can visit your local TAG office to have the app downloaded. Here's a taste. Enjoy!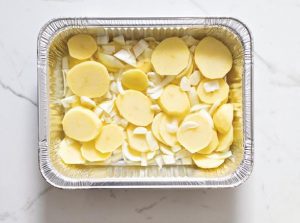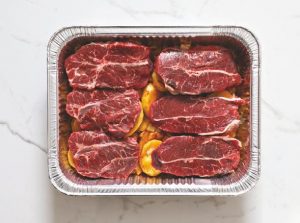 Victoria Dwek, Leah Schapira, Renee Muller, Shaindy Menzer, & Esti Waldman