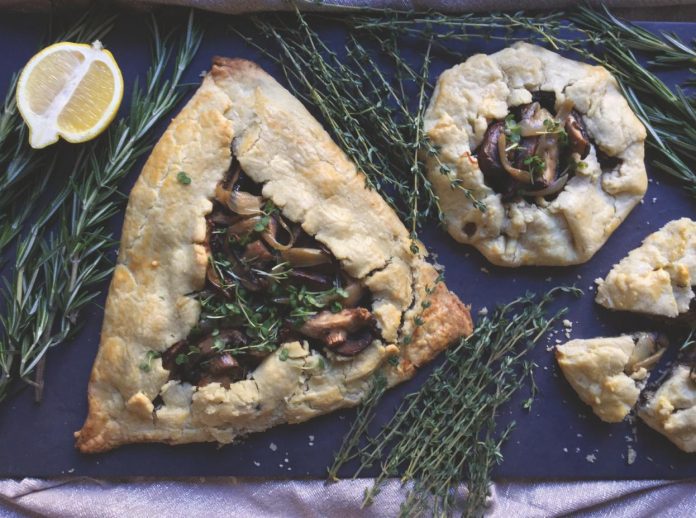 Adina Yaakov
Savory or sweet, a galette is a French pastry that doesn't require a pie dish. Rustic and flavorful, this portobello, cremini, and shiitake mushroom galette is flavored with white wine and caramelized onions and is wrapped in a flaky, melt-in-your-mouth pastry dough.
Making your own pastry dough can be time intensive, but unquestionably is worth it. If you want to save time, you can use a store-bought frozen pie crust. Just remove the tin, cut off the fluted crust, and you're ready to go. Feel free to substitute other mushroom varieties or use the basic white mushrooms for the mushroom filling. Just don't use the canned variety – those are for desperate times only.
Unlike the standard pie, the free-form galette is adaptable to any shape. Try shaping it into a triangle for your Purim Seudah or just stick to the classic circular shape. Don't be scared to try – any snafu only improves its rustic appeal.
Flaky Pie Crust:
1½ cups flour
1 tsp salt
1½ tsp sugar
1 stick trans-fat-free margarine cut into small cubes
7 tbsp ice water
MUSHROOM FILLING:
1 tablespoon canola oil
1 tablespoon olive oil
8 oz cremini (Baby Bella) mushrooms, stemmed and sliced
8 oz shiitake mushrooms, stemmed and sliced
8 oz portobello mushrooms, stemmed and sliced
1 large onion, sliced
6 cloves garlic, minced
4-5 sprigs fresh thyme, plus more for garnishing
1 sprig fresh rosemary
½ cup white wine
1 tbsp salt
½ tsp black pepper
1 large egg, lightly beaten
* Optional – microgreens for garnish
INSTRUCTIONS
Prepare the Crust:

1. Place cubed margarine in the freezer for 30 minutes.
In a processor, pulse flour, salt, and sugar. Add cubed margarine, and pulse for about 10 seconds, until the mixture just begins to get crumbly. Don't overmix.
2. Slowly drizzle half the water and pulse until it just begins to hold together. Add
the rest of the water and pulse for about 15 seconds. If the dough is too dry, add
1 tablespoon of ice water at a time, and pulse
3. Place dough onto a large piece of plastic wrap. Form into a ball and use your
hands to press and knead the dough gently until it comes together. Flatten into a
thick disk, and wrap loosely in plastic wrap. Freeze until firm, about 20 minutes or
up to 3 months if making ahead.
4. Unwrap dough from saran wrap and place onto a floured sheet of parchment.
Flour the top of the dough as well and place another sheet of parchment on top,
sandwiching the dough between both sheets. Using a rolling pin, roll until about
¼ inch thick. Place in the freezer for 10 minutes before adding filling.
Prepare the Mushroom Filling:
In a large baking tray, place all the sliced mushrooms. Add minced garlic, olive
oil, salt, and black pepper and toss to coat evenly. Tuck the whole thyme and
rosemary sprigs in between the mushrooms and bake uncovered on 350°F for 25
minutes. When cooked, discard the rosemary and thyme sprigs. Add white wine
to the mushrooms and toss to coat. Set aside.
 Heat a skillet over medium heat. Add canola oil and sliced onions. Sauté the
onions until they are caramelized, about 20 minutes. Season lightly with salt.
Gently combine mushroom and onions. Allow mixture to come to room
temperature before assembling the galette.
Assemble and Bake the Galette:
Remove the dough from the freezer. Spread the mixture into the center, leaving a border on all sides.
Fold the edges of the dough over the mushrooms, leaving the middle exposed.
Lightly brush the edges of the dough with the lightly beaten egg. Bake at 380°F. for 40 minutes, rotating the pan after 20 minutes.
Garnish with fresh thyme leaves and/or microgreens.Recipe, Photo, and Styling By Adina Yaakov, Dietetic Intern and Recipe Developer.
For more recipes follow @OnceUponAThyme__ on Instagram ​NEW! Find more recipes on ​www.OnceUponaThyme.us​