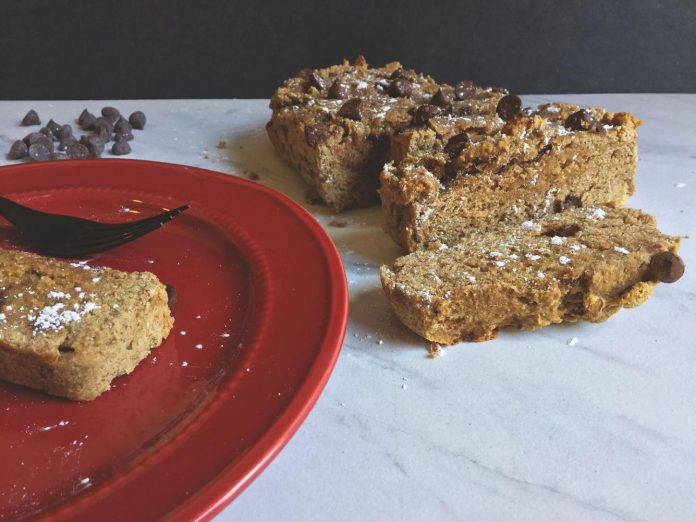 This banana bread is made with coconut flour which is extremely high in fiber. Compared to regular flour, coconut flour contains four times the amount of fiber, more healthy fats, and is lower in carbs. Coconuts are high in manganese, a mineral which is crucial for bone health and digestion of protein. Since there's no sugar, but a small amount of honey in this recipe, it's imperative to use overripe bananas for sweetness. Double the recipe and freeze the banana bread slices in an airtight container for a quick but nutritious breakfast idea.
"Kosher for Passover"
"Gluten free"
INGREDIENTS:
3 overripe bananas (should have a couple brown dots)
½ cup honey
1 teaspoon vanilla extract
¼  cup almond butter
2 eggs
½  cup coconut flour
¾  teaspoon baking soda
½  teaspoon cinnamon
¼  teaspoon salt
½  cup chocolate chips
DIRECTIONS:
Preheat the oven to 350 degrees Fahrenheit. Line a loaf pan with nonstick cooking spray.
Mash bananas well in a processor or by hand.
In a large mixing bowl, combine bananas, honey, vanilla and almond butter. Mix until well combined.
Add in eggs, one at a time, and mix until combined.
Add in coconut flour, baking soda, cinnamon and salt. Mix again until just combined. Gently fold in chocolate chips.
Pour batter into prepared pan and smooth top. Sprinkle a few extra chocolate chips on top and pat top smooth again with spatula. Bake for 30 minutes.
Recipe, Photo, and Styling By Adina Yaakov, Dietetic Intern and Recipe Developer
For more recipes follow @OnceUponAThyme__ on Instagram
NEW!  Find more recipes on www.OnceUponaThyme.co