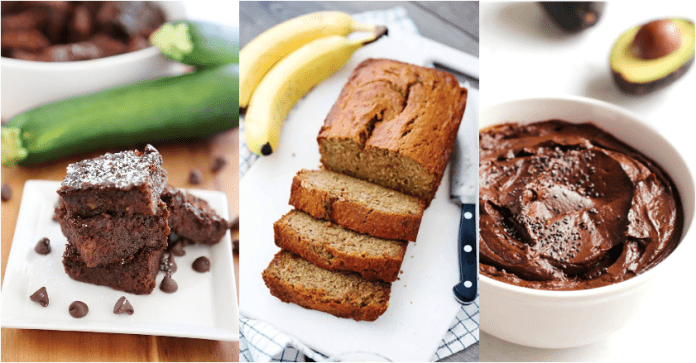 Chaya Steinman
SCENARIO ONE: Savory aromas of perfectly cooked gourmet food fill the air. The table is neatly set and the family is presented with a balanced, healthy meal of brown rice, steamed spinach, and seasoned chicken breast with a light side salad. Yet the mood quickly turns sour as one child suspiciously eyes the food announcing, "I'm not eating that!" followed by a dramatic "Ewwwwww!" from another child, while the toddler expresses his disgust by spitting out what's in his mouth and throwing the rest on the floor. The parents, horrified by such a display of chutzpah, will not tolerate this blatant disregard of the revered food pyramid. The dinner table soon becomes a battlefield of parent vs. child, with threats and punishment fired from one side are fought with whines and resistance from the other. After much tears and coercion, each child has ingested enough nutritious food to satisfy the parents, but everyone is left with a bitter aftertaste.
SCENARIO TWO: The ding of the microwave announces that the frozen pizza and fries are ready. Happy kids scamper to the table and eagerly eat their share of greasy packaged food. Mom is enjoying the easy mood yet at the same time she feels guilty and embarrassed, hoping that no unannounced visitors arrive to bear witness to this feast of innutritious calories that her children are filling up on. One by one, the satisfied children finish the meal and continue the evening calmly and cheerfully.
While these examples are extreme, most families have probably experienced their version of each scene. Parents of picky eaters face the daunting challenge of choosing either wholesome food and miserable kids, or junk food and happy kids. Parents need to decide whether or not to burden their mealtime with anguish by forcing healthy foods on finicky kids, weighing the benefits of nutritional health on one hand and emotional health on the other. Tangentially, it bears mentioning that while forcing kids to eat healthily has short-term payoffs, in the long run, if eating is associated with emotional negativity, it might result in unhealthy habits in adulthood.
With this problem in mind, let's take a look at the Jewish custom to serve stuffed cabbage or stuffed noodle dumplings during the Purim feast, in which the hidden food filling echoes the theme of the hidden hand of the Almighty in the Purim story. Taking inspiration from this Purim tradition, we can use the concept of hidden foods, to create a new repertoire of meal ideas in which healthy foods are concealed in kid-friendly fare.
Hidden Veggies
The best place to start is with food that your children already like, and then think of a vegetable that, when shredded or puréed, will blend in visually and add little to the taste. Any recipe with ground beef, chicken or turkey, such as meatballs or meatloaf, is the perfect blank canvas. Add in shredded veggies such as carrots and zucchinis, and seasonings that will overpower the vegetables. Similarly, ground chicken with cooked diced veggies or greens can be formed into bite-size patties, coated with breadcrumbs and transformed into mouth-watering chicken nuggets.
Sauces and gravies are an excellent place to hide puréed veggies. Marinara sauce can be enhanced with squash, carrots or red pepper, as the tomato paste and spices create the dominant flavor. Try puréed cauliflower in Alfredo sauce for an instant nutritional upgrade, or get in a serving of greens by adding spinach leaves to your pesto. Mashed avocado, seasoned with fresh lemon juice, garlic, and oregano, makes an unexpected yet delicious creamy sauce for noodles.
Another kid favorite is macaroni and cheese. Put puréed butternut squash in the mix, and it will blend in with the natural colors of the dish and add a unique rich flavor (see sidebar for recipe!). And who doesn't love mashed potatoes? Make them more nutritional with mashed kohlrabi or cauliflower. For kids who fancy breaded chicken fingers, sneak some ground flax seed into the bread crumbs to boost the meal's fiber content.
One of the more unique and fun trends in vegetable presentation is "spiralizing."  A Spiralizer is an inexpensive kitchen gadget which turns vegetables into spaghetti noodle shapes. Spiralized veggies can be simmered in a skillet, cooked in broth, boiled, baked, or even eaten raw. When cooked, you can serve up guilt-free, carb-free, veggie-based pasta with your favorite sauce and toppings. The Spiralizer can also transform your veggies into rice, fries, chips and other interesting shapes. The list of vegetables that can be spiralized is wide-ranging, and includes zucchini, cucumber, beet, butternut squash, eggplant, carrot, apple, potato, cabbage, and broccoli stems. In addition to the nutritional bonus of a super healthy, hearty, plant-based meal, kids will love watching the Spiralizer in action, and might even join you in the meal prep.
Play With Your Food
Anyone who grew up eating "ants on a log" – celery sticks filled with peanut butter and topped raisins – can attest to the attraction of food that doubles as play. When food captures the imagination, kids will eat it, so get creative with food presentation to engage your child's sense of fun. Try uniquely shaped sandwiches made with cookie cutters, or bite-size pieces of fruit and cheese on a skewer for a cool arrangement. Better yet, give your kids cut-up fruits and veggies in a variety of shapes and colors and challenge them to create original food art.
Quick Tricks
For cooks who are short on time, these concepts can be adapted for quicker meals. Vegetable purées and homemade spiralized veggie noodles can be prepared ahead of time, frozen and then defrosted when needed. You can easily then add these veggies to jarred sauces or boxed meals for a healthy boost. But if the thought of cooking, mashing, portioning and freezing makes you dizzy, look for packaged foods that do the work for you. For example, the company Barilla makes a line of pasta that incorporates fresh produce, such as carrots, butternut squash, spinach and zucchini, right into the noodles. They offer "[v]eggie pasta made with 25 percent freshly puréed in-season vegetables that delivers 20 percent of the daily recommended intake of vegetables so you can feel good knowing your family is getting the nutrition they need." Many other brands are hopping on this bandwagon, so peruse the shelves of your grocery for ready-made food with hidden vegetables.
Last But Not Least
When it comes to dessert, there's no reason why the last course needs to be the least healthy. In fact, with sugar to offset other flavors, mild veggies can be easily concealed in many sweet treats. Brownies, with their chewy texture and rich chocolate flavor, are the perfect base dessert for a healthy mix-in. There's something magical about the combination of cocoa powder, sugar, flour and oil that no vegetable can ruin. Play around on Google and you will find brownie recipes that include shredded zucchini, black beans, kale, carrots, beetroot, and spinach. Similarly, you can satisfy your sweet tooth with chocolate chip blondies made from a garbanzo bean base (see Deep Dish Cookie Pie recipe in side bar!). Quick breads, muffins and pancakes are also a great place to sneak in some produce—think mashed bananas, chunks of apples and pears, berries and even shredded zucchini and carrots. Or, how about some creamy chocolate pudding with avocado slipped in!
We learn in Mishle (14:1), "Hochmat nashim banta beitah – The wisdom of a woman is what builds her home." Let us be wise and use these ideas to build up the joy in our homes by removing meal time tensions with our precious children, and nourishing them physically, emotionally, and spiritually.
SECRET RECIPES
Mac & Cheese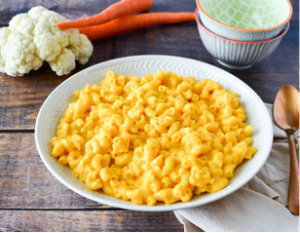 1 1/2 cups elbow macaroni
Nonstick cooking spray
1 tbsp. olive oil
1 tbsp. all-purpose flour
1/2 cup skim milk
1/2 cup butternut squash, carrot, or cauliflower purée
1 1/2 cups shredded reduced-fat Cheddar cheese
1/2 cup reduced-fat or nonfat cream cheese
1/2 tsp salt
1/8 tsp paprika
1/8 tsp pepper
Cook and drain noodles according to package instructions. Coat a large saucepan with cooking spray and heat over medium heat. Add the oil, then the flour, and cook, stirring constantly, until the mixture resembles a thick paste but has not browned, 1 to 2 minutes. Add the milk, stirring until thick. Add the vegetable purée, Cheddar, cream cheese, and seasonings, and stir until the cheese is melted and the sauce is smooth. Stir in the macaroni and serve warm. (Adapted from Deceptively Delicious)
Deep Dish Cookie Pie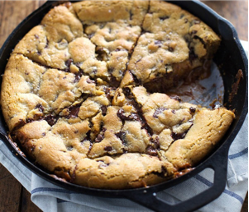 2 cans white beans or garbanzos (drained and rinsed) (500g total, once drained)
1 cup quick oats
1/4 cup unsweetened applesauce
3 tbsp. oil (canola, vegetable or coconut)
2 tsp pure vanilla extract
1/2 tsp baking soda
2 tsp baking powder
1/2 tsp salt
1 and 1/2 cups brown sugar
1 cup chocolate chips
Blend everything (except the chips) very well. Mix in chips, and pour into an oiled pan. Cook at 350 degrees for around 35-40 minutes. Let stand at least 10 minutes before removing from the pan. (chocolatecoveredkatie.com)