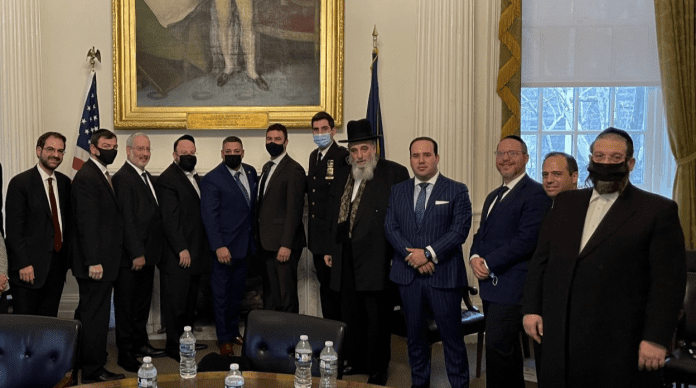 In response to growing concern over anti-Semitic hate crimes, Mayor Eric Adams hosted a high-level strategic meeting with Jewish leaders last month at City Hall. Mayor Adams spoke strongly about fighting hate crimes and making education and enforcement a top priority. The Mayor stated that he asked Education Chancellor Banks to attend "as a call to action" in order to collaborate with the leaders there and add school curriculum which educates students about respect and sensitivity to the many diverse communities of NYC. Mayor Adams personally pledged about himself that "no one is going to work harder, no one is going to be more committed, no one is going to be more dedicated in these next few years to turn this city around in the right direction."
"It's refreshing to see the mayor's office working hand-in-hand with the NYPD to keep New Yorkers safe," said NYPD Clergy Liaison David Heskiel, who attended the meeting as a representative of New York City's Sephardic community.
City officials joining Mayor Adams included Deputy Mayor for Public Safety Phil Banks, Chief of Staff to the Mayor Frank Carone, Chief Advisor to the Mayor Ingrid Lewis-Martin, Police Commissioner Keechant Sewell, Senior Advisor to the Mayor Joel Eisdorfer, Deputy Chief of Staff to the Mayor Menashe Shapiro, Education Chancellor David Banks, NYPD First Deputy Commissioner Edward Caban, NYPD Chief of Detectives James Essig, NYPD Community Affairs Commanding Officer Inspector Richie Taylor, and Commissioner of the Mayor's Community Affairs Unit Fred Kreizman.
Also in attendance was City Council Jewish Caucus Chairman Eric Dinowitz along with Council members Kalman Yeger, Inna Vernikov, Ari Kagan, Lincoln Restler, Lynn Schulman, and Julie Menin.
Community leaders who participated included Agudath Israel of America Executive Vice President Rabbi Dovid Zwiebel, Met Council CEO David Greenfield, Sephardic Community Leader David Heskiel, Rabbinical Alliance of America/Igud Executive Vice President Rabbi Mendy Mirocznik, Hatzalah CEO Yehiel Kalish, UJA-Federation CEO Eric Goldstein, Williamsburg Community Leader Moshe Indig, UJO Executive Director Rabbi Dovid Niederman, Williamsburg Community Leader Isaac Werzberger, NYPD Hate Crimes Review Panel Chair Honorary Commissioner Devorah Halberstam, Crown Heights Jewish Community Council Executive Vice President Chanina Sperlin, NY Board of Rabbis Executive Vice President Rabbi Joseph Potasnik, Flatbush Jewish Community Coalition Chairman Josh Mehlman, Boro Park Community Leader Rabbi Bernard Freilich, Misaskim CEO Yanky Meyer, Jewish Community Relations Council CEO Gideon Taylor, Jewish Community Relations Council CEO Emeritus Rabbi Michael Miller, Crown Heights Community Leader Yaacov Behrman, and Simon Wiesenthal Center Eastern Director Michael Cohen.
Police Commissioner Keechant Sewell stated "We take these crimes seriously. We value the partnership we have in the community and we hope to enhance that going forward."
NYPD Inspector Richie Taylor spoke about the hate crime assault which occurred the week before on Friday night at Avenue L and East 32 Street at 10:40pm and the hate crime menacing incident which occurred a few minutes later on Nostrand Avenue and Kings Highway. Inspector Taylor spoke about how the mayor was personally involved in directing the investigative response to these incidents and with intelligent detective work the perpetrator was arrested.
"Mayor Adams' immediate response speaks volumes," said Inspector Taylor, who said as soon as the hate crimes took place, Mayor Adams immediately "got the ball rolling to start the investigation, and that is something I have never seen a mayor do before."
Anyone who has information on criminal activity is urged to call the NYPD Crime Stoppers Tip Line at 800-577-TIPS. In addition, if anyone has information or sees suspicious terrorism activity is urged to call the NYPD Terrorism Tip Line at 888-NYC-SAFE.