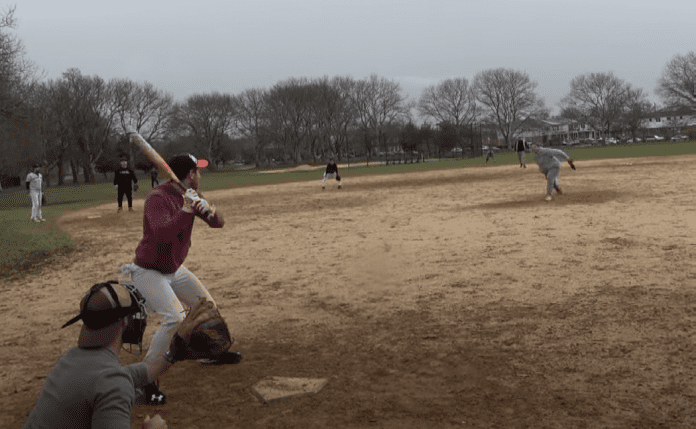 After a winter of anticipation, the 2022 MSB season is finally underway. This year MSB has done something that has never been done in Syrian community softball history. The league held the very first auction draft as opposed to the traditional snake draft. An auction draft added a whole new dynamic, as the captains all had a fair opportunity to bid on the players on the draft board, and the draft was a smashing success. 
Team CARE vs. Team SBH
The season got underway on April 3rd. Team CARE, captained by Mordy Chrem, faced off against Team SBH, which is captained by Edmund "The Phenom" Beyda.  
This matchup featured a World Series rematch with the 2021 Cy Young award winner and World Series champion Ray Sakkal on the mound for SBH going up against the aforementioned Edmund Beyda.
In Game One, CARE took care of business and took the first game of the season by a final score of 3-1, as rising star Isaac Sasson, who went on to win Player of the Week, knocked in a run along with the reigning MVP Jack Harary and sophomore Jack Mosseri, who did the same. It was a hard-fought battle.
In Game Two, Team SBH evened the score as they went on to win by a final score of 7-2 behind the arm of young Beyda and the bats of star CF Alan Jemal and rookie Bernie Pindek, who drove in three runs. 
Community Assistance Fund Takes on Maskeel El Dal Society
Our second matchup featured The Community Assistance Fund, captained by Yankee Itzkowitz and Yaakov Seruya, taking on Maskeel El Dal Society, captained by Dan Braun. 
In Game One, Maskeel El Dal got a sterling pitching performance from captain and former league champion Dan Braun, as he limited the opposition to just one run and was powered behind the bat of league slugger Alex Madnick as he plated two runs, which proved to be the difference as Maskeel El Dal took game one by a final score of 3-1. 
In Game Two, we got the exact score, but the roles were reversed. Long time league veteran Jackie Shwecky continued to defy odds as Jackie held up his end of the bargain by surrendering just one run. Rookie Leo Setton opened up some eyes as he played a lights-out right field and had himself a day at the plate, which earned him Player of the Week, a great start to a promising career. 
Team SAFE Squares Off Against Team SFF
Our final matchup of the day featured Team SAFE, captained by Leo Esses and veteran Ike Chazanoff, taking on Team SFF, captained by Mordechai Grazi.
The story of Game One was the ineffectiveness of rookie starting pitcher JoJo Cohen, who had a hard time finding the strike zone, which led to a blowout victory for SAFE by a final score of 12-2 in a mercy. SAFE got all they needed from fill-in starting pitcher Marc Cohen and saw the young offensive bats of Lawrence Kurtz (who took home Player of the Week honors), Benny Levy, and David Paul Sutton.
The second game was shortened by inclement weather, as it was 5-5 in the 4th inning. The game  will be resumed, if necessary, at a later date. 
After the game a deal was struck between these two teams, as SFF recognized they needed an upgrade at starting pitcher and sent reigning gold glove winner Eli Harari to SAFE in exchange for Marc Cohen. 
Partner with MSB to Help Community Tsedaka Organizations 
This year MSB will be raising much needed funds for seven of our community charity organizations. 
Readers, if you would like to contribute towards any of these organizations please reach out to Samjsutton@gmail.com. The seven MSB teams represent the following organizations: SBH, SAFE, SFF, Maskeel El Dal Society, CARE, Bnei Malachim, and The Community Assistance Fund.
If you haven't already, please give us a follow on Instagram @MSB_Softball and check out the league website www.SySoftball.com where we feature everything league-related including weekly highlights, stats, team records, and much more.