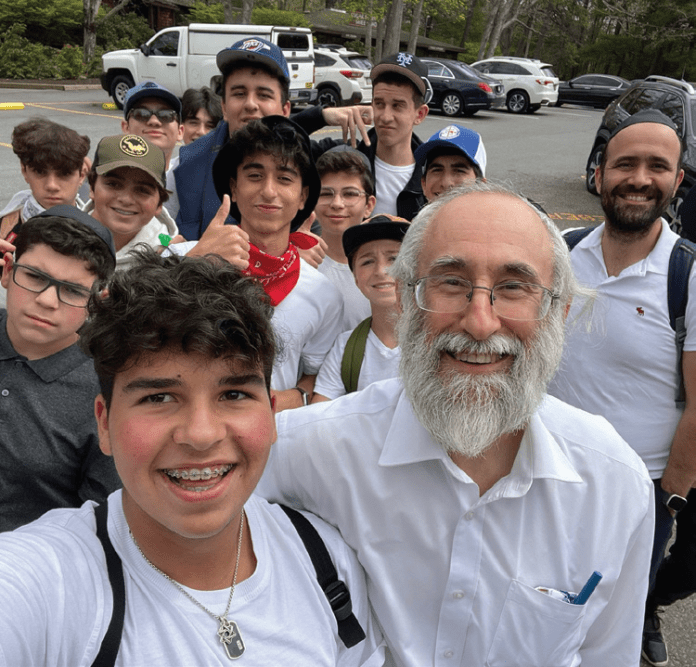 Hiking and Bonding
Rabbi Topas bonding with his students.
Last month, Magen David High School students enjoyed an inspirational trip with their rebbes. Rabbi Meyer Topas brought his gemara class on a special trip to Bushkill Falls along with Rabbi E. Bitton, as a special reward for the boys' excellent learning. They went on a 2.5-mile trail hike and were treated to beautiful scenery and waterfalls. The rabbis and students all enjoyed being together while taking in Hashem's beautiful world! After the hike, they enjoyed a BBQ lunch at a beautiful picnic spot. A great time was had by all!
Support the SHM's Ukraine Rescue Mission
The world has been shocked and horrified by the images of death and destruction coming out of Ukraine, in what has become the fastest growing humanitarian crisis in Europe since World War II. More than two million refugees, primarily women and children, have already fled Ukraine and many within Ukraine are also displaced.
The Sephardic Heritage Museum is conducting their own "Ukraine Rescue Mission" to try to save as many Jewish lives as possible with the help of our entire community globally.
All monies collected go directly to help our brothers and sisters in Ukraine. The funds raised will be used for evacuating families and getting them to safety and also will be used to pay for food and shelter.
As you can see in the news every day, the situation continues to get worse, if that is possible to comprehend.
All donations to help the Ukraine Rescue Mission are processed through The Sephardic Heritage Museum, and every penny of your donation goes towards this mission.
To donate funds via credit card, go to: Donate – Sephardic Heritage Museum.
To find out how to get involved, contact Rabbi Raymond Sultan at: rsultan@theshm.com.
Jewish Teenager Attacked in Midwood
A Jewish teenager walking in the heavily Jewish neighborhood of Midwood in Brooklyn, was punched in the face by an attacker because he wouldn't say, "Free Palestine."
The victim and his friend, both 18-year-old yeshivah students, were walking down Avenue M at approximately 2pm, when they realized they were being followed by a group of Arab teens.
One of the teens approached them and demanded that they say, "Free Palestine." When the students ignored him, the assailant allegedly punched one of them, giving him a bloody eye.
The attacker and the other teens with him fled the scene. The victim was taken to the hospital by Hatzalah paramedics. No arrests have been made in the case.
New York State Senator Simcha Felder, who represents the neighborhood, is personally offering a $5,000 reward for information leading to the arrest and prosecution of the attacker. Felder made the announcement on Twitter, saying "Enough is enough! These attacks must end!"
The assault follows two others within the week, including an attack in the Crown Heights neighborhood of Brooklyn in which a rabbi was beaten by a man who yelled, "The Nazis should have killed you Jews."
According to the Anti-Defamation League, the highest number of anti-Semitic attacks recorded in the United States took place last year with 2,717 reported cases, more than 330 of them occurring in New York State.