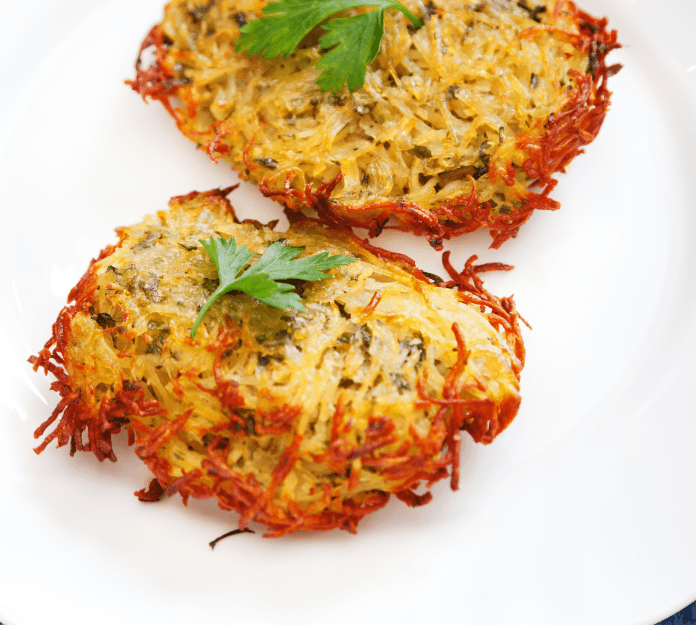 Kids – See if you have what it takes to become a Junior Chef!
Adult Supervision Required
Utensils Needed:
Saucepan
Colander
Grater
Large bowl
Dish towel
Fork
Large frying pan
Metal spoon
Spatula
Knife
Ingredients:
4 medium-sized russet potatoes, about 2 pounds, peeled
4 tablespoons olive oil
Salt
Freshly ground black pepper
Makes 8 Latkes!
Let's Get Started!
Caution: ADULT ASSISTANCE IS REQUIRED
Cut the potatoes in half and boil them in a saucepan of boiling salted water for 7 minutes. Then drain the water and let cool.
Coarsely grate the potatoes into a bowl.
Transfer the potatoes onto a clean dish towel.
Use the dish towel to squeeze out any excess liquid, which would make the latke soggy. Then, add salt and pepper and mix lightly with a fork.
** Ask an adult to help you with the remaining steps of this recipe.
Heat half the oil in a large frying pan and let it begin to sizzle.
Shape spoonfuls of the grated potato mixture into round cakes ½ inch thick and place four of them into the pan.
Gently fry the latkes until golden brown and crisp underneath (between 5 to 10 minutes). Then turn the latkes over with a spatula, and cook for another 5 to 10 minutes, or until browned on the other side.
Remove from pan and keep warm while cooking the rest of the mixture in the remaining oil.
Buzz the Brachos Bee
When you say a berachah, you must say it loud enough to hear your own words.
Rösti-Styled Potato Latkes
Available at Artscroll.com and at all Judaica Stores.
Chef Shiri Says…
Get creative and combine the potato with other delicious vegetables such as sweet potatoes, carrots, or beets!
WHAT'S IN A NAME?
Technically the word rosti means "crisp and golden" and refers to foods sautéed until crisp and browned. Rosti (pronounced RAW-stee or ROOSH-tee) is a Swiss potato dish perhaps best described as a cross between hash browns and a potato pancake.